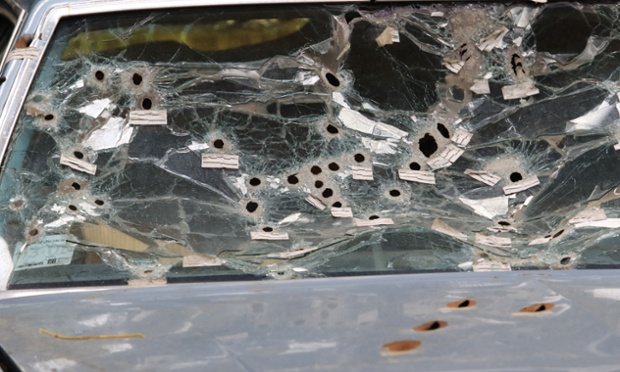 From The Guardian
137.
At first it was an abstraction. An impossible number in some ways. A ridiculous number.
The sound, the roar, the explosion of 137 bullets being fired from 13 guns at a car with 2 people inside.
I imagine there were voices lifted in horror and anger and rage and, afterwards, a fading echo of all this bouncing off the walls around this schoolyard; overwhelming the echo of children's laughter and exuberance.
Their dark, beautiful skin being exploded by bullet after bullet. Hands being lifted to try and shield their faces and their bodies as bullets passed through those hands like nails.
Knowing they were being killed and not believing they were being killed. What were their final thoughts as, through they shattered windshield, they saw the outline of a figure standing on the hood of the car? Did they hear all of the 15 shots he fired right at them? Did they see the 15 flashes of light from his gun?
When the officers searched the car. When they saw these bodies, mangled and torn. When they found no gun. When the horror of what had happened crept up like bile in the back of their throats.
When family members and friends heard that those they loved had been killed. When they were told they had run from the police. When they mourned those who had been mangled.
When the justifications began. When the lying began.
When the truth was told. When the rage began.
When the lies were chiseled into stone.
When hammers were brought out to break that stone.
What assumptions made this couple run from the police?
What assumptions made the police keep shooting?